The Best of British "Whisky Experience"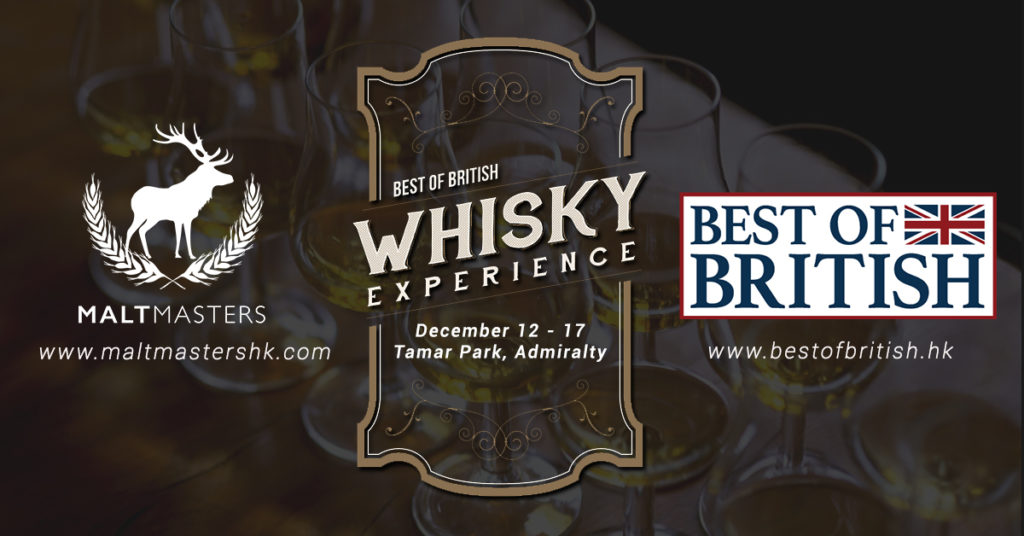 Born out of a desire to highlight the UK's world-renowned culture and enterprise in Asia's World City, Best of British is a first-of-its-kind event in Hong Kong. It was launched in Hong Kong in 2015 that is comprises a series of inspiring events and consumer campaigns that have been designed to promote British brands and figures and entertain the Hong Kong public.
This year, the Best of British is back and it's bigger than ever with the introduction of the Best of British Whisky Experience. Partnering with the Malt Masters, we are bringing together the finest whiskies from the UK to offer the Hong Kong an extraordinary "Whisky Experience".
ENTRY TICKETS
General Admission
As part of your general admission ticket, you will be able to enjoy unlimited drams from the participating brands whilst learning more about the expressions and distilleries with their representatives. You will also receive a welcome whisky cocktail at our fabulous Whisky Cocktail Bar to enjoy as you mingle with friends in the beatiful open-area of Tamar park.
VIP Lounge
You can enjoy 4 VIP drams of SMWS and Elements of Islay with your VIP ticket and unwind in the Safe Bubbles and Malt VIP Lounge.
Additionally, you can have 2 whisky cocktails of your choice from the cocktail bar; a HK$100 worth of food voucher; and a HK$50 discount for any purchase of Masterclasses.
***VIP tickets are limited to 100 per day so make sure you get yours fast.
MASTERCLASSES
Over the Best of British weekend, we will be hosting a number of informative and fun Masterclasses both, educational and brand focused to give you an exciting insight into the world of Scotch.
THE LOST DISTILLERY COMPANY: "Lost Whisky Legends, forgotten…Until Now"
In the last century nearly half of all Scotland's whisky distilleries have closed or been lost forever. The Lost Distillery feels it's a tragedy and so were inspired to create.  Despite being renowned for their excellent quality malts, these distilleries were largely closed through the effects of war and politics. The Lost Distillery Company to rediscover our past pioneers and Scotch whisky legends. In a dynamic tasting you will explore a full range of flavors across Scotch regions and reveal the untold story of Scotch in 19th century Scotland!" These are hand-crafted whiskies steeped in history with an old-fashioned taste.
The Lost Distillery- Dalaruan (Campbeltown)
The Lost Distillery- Lossit (Islay)
The Lost Distillery- Stratheden (Lowland)
The Lost Distillery- Towiemore (Speyside)
Carmen Tam, The Lost Distillery Brand Ambassador in Asia will present the classic range from The Lost Distillery Company and exploring the rich history of these by-gone expressions.
GLENDALOUGH DISTILLERY: "Ireland's First Craft Distillery"
The Glendalough Distillery was set up by five friends from Wicklow and Dublin with a deep passion for reviving the heritage of craft distilling in Ireland. In the 18th & 19th centuries there were over 200 licensed distilleries in Ireland and along with countless unlicensed ones produced diverse styles of poitín, whiskey, gin and even absinthe.
Until recently that dropped to a small handful. Glendalough Distillery is now part of a revival of this heritage. The idea behind Glendalough Distillery is to make innovative spirits while staying true to the tradition and heritage of our ancestors.
In this special Masterclass you will be able to try four expressions from Glendalough showcasing alternate cask finishes including 2 single malts brand new to Hong Kong:
Glendalough 7 Year Old Original
Glendalough 7 Year Old (2017 release) Porter Barrel Finish
Glendalough 13 Year Old Original
Glendalough 13 Year Old (2017 release) Mizunara Cask Finish
Paul Gallagher, the Glendalough Brand Ambassador in Hong Kong will present the Glendalough range where he will discuss how a young distillery evolves to meet market demands.
CASKELLS WHISKY SHOP: "Independent Bottlers – Single Cask"
Single Cask whiskies are the purest form of whisky; direct from the barrel to the bottle, each barrel has unique characteristics depending upon the distillery it came from, the barrel the whisky was matured in, and the location and time of maturation.
You will be present a fantastic range of Independent Bottling's from Hepburn's Choice and First Edition's produced by Hunter Laing who create some of the best IB expressions in the world! In this Masterclass you will discover what makes Single Cask whiskies special and uncover what to look for in a particular expression. You will also receive a fantastic introduction to Independent Bottlers, what they are and how they are different to standard distillery expressions:
Hepburn's Choice, Benrinnes 9 Year Old Quarter Cask
Hepburn's Choice, Caol Ila 5 Year Old Single Cask
First Edition's Glenrothes 20 Year Old Cask Strength
First Edition's Laphroaig 16 Year Old Cask Strength
John Rhodes is an importer of specialist cask whiskies from Scotland and co-founder of the HK Whisky Festival. He is also the exclusive agent of Glencairn Whisky glassware in Asia.
TEELING WHISKEY COMPANY: "The Spirit of Dublin"
The Teeling Whiskey Company was founded in 2012 to revive the old Teeling family trademark of Irish whiskey and bring craft distilling back to the City of Dublin. Lead by Jack and Stephen Teeling, the Teeling Whiskey Company has quickly become the leading progressive Irish whiskey company by driving category choice and innovation through a selection of unique handcrafted small batch Irish whiskeys.
In this special Masterclass you will be able to sample and explore three different styles of Irish whiskey and an Irish Poitín:
Teeling Small Batch blended whiskey
Teeling Single Grain
Teeling Single Malt
Teeling Spirit of Dublin Poitín
Guy Horan, Asia brand ambassador for the Teeling Whiskey Company, will introduce you to the Dublin's first new distillery in 125 years and discuss the revival of the Irish whiskey category.
ABERLOUR DISTILLERY: Award Winning Aberlour  "Made from Experience"
Aberlour single malt whisky is named after where it's made. It means 'the mouth of the chattering burn' in Gaelic, and this wild mountain stream is part of the Aberlour story. Cascading down over mossy waterfalls and through wooded glens, its constant chatter can be heard as it flows past the distillery to join the Spey at Aberlour.
This VIP Masterclass will showcase the unique skills it takes to achieve the perfect balance of Aberlour single malts showcasing their multi-layered complexity. Discover four different expressions of Aberlour:
Aberlour 12 years old
Aberlour 16 years old
Aberlour 18 years old
Aberlour A'Bunadh
Cecilia Wong, a certified Whisky Ambassador will present the Aberlour range on behalf of Pernod Ricard where she will discuss the history of this distillery and what gives it its unique character.
THE GLENLIVET: "The Original Speyside Malt"
One of the worlds' most recognised Scotch whisky, The Glenlivet is a supremely elegant whisky of rewarding and subtle complexity. Famous for both its fascinating history and consistently high quality expressions, this is a distillery that just keeps on giving. In this special Masterclass, you will be able to taste and explore four of The Glenlivet's iconic Single Malt Whiskies:
The Glenlivet 12 years old
The Glenlivet 15 years old
The Glenlivet 18 years old
The Glenlivet Nadurra years old
Cecilia Wong, a certified Whisky Ambassador will present the Glenlivet range on behalf of Pernod Ricard where she will discuss the history of this distillery and what gives it its unique character.
MALT MASTERS LTD: "An Introduction to Scotch Whisky"
This Introduction to Scotch Whisky Tasting is for newcomers and enthusiasts alike. Whisky is on the increase around the world with more and more distilleries opening each year; but in order to truly understand whisky we have to go back to where it all started; Scotland.
A back to basics tasting; this introduction to Scotch Whisky Tasting takes a look at an exciting range of Scottish whiskies which tell the story of Scotch Whisky's colorful evolution. We will uncover Scotch Whiskies secrets growing from an illicit and often untamed spirit to the celebrated and world-renowned golden liquor we know today.
In this special Masterclass we cover some of the key whisky producing regions which each, in their own merit, exude a wide spectrum of aromas and flavours born and shaped from the land the distilleries occupy. We will also cover the origins, production, and the maturation processes to gain an understanding of how the golden liquid ends up in our glasses.
MALT MASTERS LTD: "Exploring the Scotch Whisky Regions"
A unique and back to basics concept; this Taste of Scotland Whisky Tasting takes in an exciting and eclectic range of Scottish whiskies from the different regions which help tell the story of Scotch Whisky's evolution from an illicit and often untamed spirit to the celebrated, world-renowned and burgeoning industry we know today.
In this special Masterclass we will taste a whisky from each of the key whisky producing regions and explore what make them so different from another as shaped by their terroir and regional characteristics. Each Scottish region, in their own merit, exudes a wide spectrum of aromas and flavours born and shaped from the land the distilleries occupy.
Lowland- Glenkinchie 12 Year Old
Speyside- Glenfarclas 18 Year Old
Islay- Lagavulin 16 Year Old
Highlands- Singleton of Glen Ord 18 Year Old
WHISKY COCKTAIL BAR
Visit the Whisky Cocktail Bar where you can explore and experience the versatility of whisky as the perfect cocktail spirit. There will be a number of different cocktails to choose from using some fantastic Blends and Single Malts that will be showcased at the event over the weekend!
SITE MAP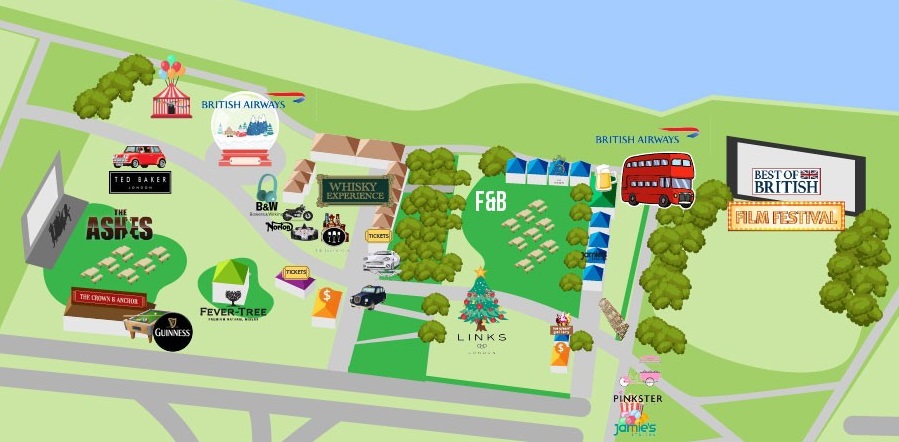 EXHIBITORS