Whisky Tasting- Independent Bottlers
June 30 @ 7:30 pm - 9:00 pm
$260
Event Navigation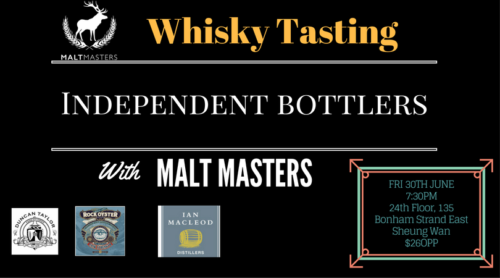 Here is your chance to understand, explore and taste some of Scotlands best Independent Bottled Whisky! Once you look beyond the whiskies that are released by distilleries, you will uncover a whole new whisky world out there: the world of Independent Bottlers!
Did you know that distilleries don't own every cask of whisky hidden in the warehouses of Scotland? Sure; they make the new spirit but as soon as it leaves the still it can go on an adventure with distilleries swapping both new spirit and casks of mature whisky.
As a result; we now live in a world with lots of other whisky companies out there, who are independent of the  distilleries, meaning they can experiment to make a whisky completely unique from its original source and some of them are the best selling whiskies in the world.
Join Malt Masters whisky experts and let us take you on a journey of Independent Bottler discovery; tasting 4 Independant Bottles from different Scottish regions and let us guide you through their unique tastes, aromas and origin stories!
---
The Whiskies
– IAN MACLEOD DISTILLERS: 
As We Get It Islay (61.3% ABV): From Ian Macleod's As We Get It series comes a cask strength single malt Scotch whisky from the isle of Islay, renowned for its peaty whiskies.
– DOUGLAS LAING: 
Rock Oyster Cask Stength (57.4% ABV)- Douglas Laing's Small Batch bottling has a truly maritime and oceanic character of sea-salt, sweet peat, smoke, honey and pepper. Containing the finest Malt Whiskies from Scotland's Whisky islands, including those distilled on Islay, Arran, Orkney and Jura! 
– DUNCAN TAYLOR DISTILLERS:
The Octave Collection, Glenallachie 2008 (52.6% ABV)
The Dimensions Collection, Tomatin 2009, 6 YO, (52.8%)
Duncan Taylor & Company has ownership of one of the largest privately-held collections of rare scotch whisky casks. The company has been "laying down" casks from premium Scottish distilleries for decades and has, in recent years, made its branded products available to whisky connoisseurs throughout the World.
---
Please Note- Cancellations made within 24 hours of the Tasting will not be refunded. Alternatively, purchased tickets can be transferred to another tasting event.